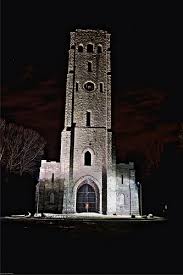 Rio Vista was founded in the early 1900's by Manuel Rionda, a wealthy southern plantation owner who made his money growing crops. After moving to the north, Manuel erected the tower itself for his wife so that she could obtain a beautiful view of the New York City skyline.
Others state that the tower was created for religious purposes, possibly to later to be used a mausoleum for the family once they passed on. The tower was so complex that Manuel even had an underground tunnel which was connected from his home to the tower itself.
As the legend states, Manuels' wife was enjoying her view up in the tower one evening when she spotted her husband having an affair with another woman. Becoming so distraught and overcome with anger and rage she leap to her death. Later that evening, having not heard from his wife, Manuel went looking for her. It was then that he found her and her mangled dead body. From that point forward, supernatural activity began to occur within the tower. People began to get pushed, noises could be heard, something about the tower wasn't what its used to be. Manuel still overcome by the horror, believed that it was the spirit of his dead wife coming back to haunt him. As a result, Manuel closed down the tower, filled in the tunnel, and removed the elevator leading the top proclaiming, "Nobody will ever go up here again".
Even though the tower itself was closed, strange activity still occurred and the legend of the tower spread through the local towns. The tower quickly became known as the "Devils Tower". When Manuel himself passed away in the mid 1900's, the town decided to demolish the tower, but after multiple construction workers fell to their death, the mission was aborted. These deaths only led to more believers in the horrific tale. As such, the tower is still standing today.
The tower itself is still claim to a variety of paranormal activity. Noises can be heard from inside of the chamber, and strange perfume smells come and go. If you listen closely you can still hear the wife screaming in agony as she finds out her husband is cheating. You can also hear the sound of construction workers falling to their death.
It is said that if you drive or walk backwards around the tower 3-6 times (depending on who you hear it from) Manuel's wife will appear in front of you, or even worse- the devil. The most common experience told is when visitors arrive to look at the tower. If you look up into the windows of the tower you can sometimes see a shadowy figure, commonly thought to be Manuels wife standing their waiting for you to come visit her.
https://trytoscare.me/legend/devils-tower-alpine-nj/