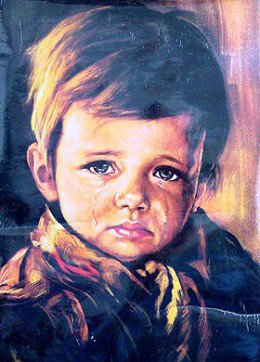 The Crying Boy Painting: Curse of the Fire Starter
Curses are as strong as the mind of the person whom believes in it....
History & Origins
The boy , orphaned and abandon on the street as a young child (circa 1950, actual date unknown) was found alone and crying. His parents had recently died in a house fire. One he was have said to start with his mind. Many claimed he had real life pyrokenetic abilities and was thus accurately named Diablo (devil) or The Fire Starter. Although it is said that pyrokenisis, the ability to create or control fire with one's mind, is relatively rare, there have been purported cases of it occurring throughout history. If you believe in spontaneous human combustion in which the cells of a body speed up so rapidly that the person spontaneously combust into fire then pyrokenesis is fathomable.
An Italian (or Spanish depending on the source of information you are using) artist by the name of Bruno Amadio whom found the boy painted the portrait. He was said to have watched over the boy, allowing him to live with him in his studio apartment where he painted. Shortly after completion of his work, the studio burnt to the ground. The boy was then passed from family to family. Each family loss their house to fire. What was believed to be the same boy later died in a car accident in which no one claimed his body.
The history of The Crying Boy painting seems to drop off there. When researching the painting there was relatively little information on known facts about the boy or his family. The painting didn't come back into the spotlight until about 35 years later in 1985.
In 1985 in areas throughout England some 50 house fires occurred in which the house were completely gutted and burnt to the ground. In each case only 1 item within the house was left standing, untouched and unclaimed by the raging fire.....
They all claimed one thing in common: the families were owners of The Crying Boy Painting. Coincidence?
The painting had by 1985 been massed produced so there were thousands of copies in circulation. Although the whereabouts of the original painting (there were purportedly 28 originals) was unknown, it didn't matter, the curse seemed to extend to the copies as well.
http://hubpages.com/religion-philosophy/Paranormal-Legends-Cursed-Artifacts-Haunted-Objects