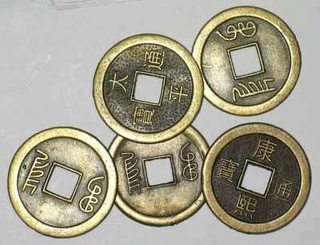 I Ching Divination is a very old method for predicting the future.
It first arose in China as a way for the sages of ancient China to provide divinely informed consultation to the wealthy and nobles.
The earliest evidence of this practice comes from roughly 2700BC.
The fact that it has survived this long gives credit to its usefulness in seeing into the time yet to come.
There are actually two tools for two different I Ching methods—the yarrow sticks or stalks method and coins.
Coins were generally only used by the wealthy during the early years of this technique because they had access to the money.
However, coins are considered to be far easier to use than yarrow sticks since it requires less tediousness.
This I Ching coin method still takes time as you compose a hexagram using the numbers accumulated from the tossing of your coins—heads indicating yang for three points and tails for yin for two points.
http://www.mysticfiles.com/ten-divination-tools/